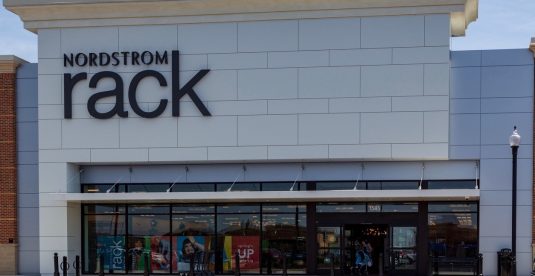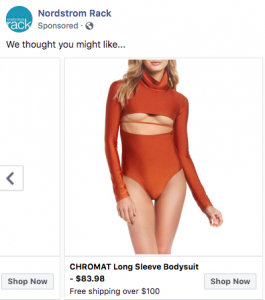 No Nordstrom Rack, while I am an occasional shopper in your store, I DEFINITELY don't like that Bodysuit.  It popped up on my social media feed, enabled by who knows what Artificial Intelligence (AI) program, triggered by something I purchased.  I'm still struggling to figure out what could have gotten me that suggestion!  For starters, basic age demographics would have disqualified me – or any woman over 30 who is subject to the, um shall we say, laws of gravity…
There are so many potential benefits of AI but it doesn't replace insight and real human connection.  Here's a great Marriott program that uses insight plus AI to turn people's celebrations into personalized meaningful moments.  Imagine you are at their hotel, post your engagement photos on your social feed and receive a gift of champagne from the hotel that same day.  You'd tell everyone about it.  And that's just what guests did.
The difference between the Nordstrom Rack fail and the Marriott success has everything to do with human connection. Personalization, says Elizabeth Rutledge, American Express CMO, is only half of the equation.  As she said, "We must infuse the personal in personalization." At American Express, every employee is responsible for bringing to life the brand promises of trust, service and security.  AmEx leverages social media to show all the ways that they support their customers.  After 1 year, brand value has grown 18%.  They are now seen as the most valued brand in financial services.
Pinterest is focusing on human connection and helping people create the life they love.  They are urging brands to reframe the technology conversation to focus on bettering humanity.  For example, they see that people are seeking escapes from lives on their screens.  They feature the fast growing Hygge lifestyle which focuses on creating a cozy home environment.
And Hyundai knows we don't love to read our car manuals, so they've created an augmented reality game to take us through it.  Now, do you suppose they could invent a virtual way to fill the gas tank?
Ever tried to take a selfie with your dog and failed?  Me too.  Knowing this was a common issue among dog lovers, Pedigree invented the selfie stick.  With a literal chew stick mounted on your phone that gets dogs' attention.  And then an app followed.  Problem turned into delightful human and canine connection.  Now if I could get teenagers to pose for those holiday pics…
All these brands – from CPG, travel/leisure, finance, digital/tech, automotive – have one thing in common.  They are making human connections that are personal and relevant.  There are many ways Nordstrom Rack could have enticed me to shop but this wasn't one of them. Perhaps, next time, they could offer me a 21-year-old body to go with that revealing orange top.  A sort of buy one get one free offer.  Come on Nordstrom Rack, time to live up to your name!
ANA Masters of Marketing Blog Series