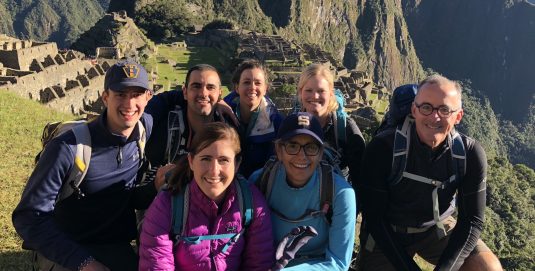 I always love reading year-end "Best Of" lists.  And also to hear, or read,  what others are looking forward to in the coming year.
So here's my take on it – a mixture of professional and personal highlights from 2018,  and what I am looking forward to in 2019.
Best of 2018:
Best brand of the year:  Epic Games free-to-play digital-game "Fortnite."  Because it upended most of the norms in video games,  and deeply understood its players.
Best business book:  Scale by Geoffrey West.
Best non-business book:  An American Marriage by Tayari Jones.
Best movie:  Mary Poppins Returns (OK so I am sentimental!)
Best streaming series:  Stranger Things
Best business journalism:  "How CEOs Manage Time" by Michael Porter and Nitin Nohria in Harvard Business Review.
Most interesting person I interviewed:  Susan Somersille Johnson of SunTrust Banks
Best sporting moment:  What else?  Roger Federer winning the Australian Open
Best family moment:  Climbing across the 4600-meter Salkantay Pass on hike to Machu Picchu.
Best business trip:  Cannes Lions International Festival of Creativity… for lots of obvious reasons!
Best fitness routine:  Cardio Tennis
Worst-timed stock picks:  GE and Facebook
Best new city visited:  Cuzco,  Peru
And for 2019…
What I am looking forward to:
Business books to read (not all new):  Bad Blood by John Carreyrou,  New to Big by Christina Wallace and David Kidder,  Merchants of Truth by Jill Abramson
Other books:  Sapiens: A Brief History of Humankind by Yuval Noah Harari, 10% Happier by Dan Harris, Becoming by Michelle Obama
Business trip:  Okinawa and Tokyo for a series of seminars and visits
Movies:  They Shall Not Grow Old,  Dumbo
Streaming series:  Stranger Things (hurry please!), The Marvelous Mrs. Maisel
New (to me) fitness routine:  Orange Theory
New habit:  Eating "The Whole 30" way –  beginning January 2!
Business projects: 
Progressing a new Jim Stengel Group R&D project on purpose measurement and assessment to help leaders sustain their purpose-centered approach
Pioneering a new marketing effectiveness leadership program with the EFFIE organization on the occasion of its 50th anniversary
Launching a new book with the Kellogg School at Northwestern on branding in a hyperconnected world
Working on some concepts for a new book – my third
Personal passion project:  Renovating a 1920s beach house
Family event:  Son's wedding later this year!
Happy New Year!