It's the 50th Anniversary of the Effies and Suzanne Tosolini and I were in NYC to celebrate. I led the discussion at Effie Next – A Summit on the Future of Marketing Effectiveness.
Mark Ritson kicked off the day with his analysis of 50 years of Effie award winners and shares what drives greater marketing effectiveness.
His findings:
Insights are key. Invest in research to uncover insights.
Two is the magic number. Never have more than two marketing objectives.
Mass marketing beats segmentation. Mass marketing objectives are better than segmentation-driven targeted marketing.
Let a campaign run. Research shows the longer, the better.
Focus on the creative. Pay more attention to the activation than the media.
Differentiate. Distinctiveness is not enough.
More is more. The more channels you use, the greater the effectiveness.
Be courageous. Bravery wins.
The summit was organized around 5 key drivers of marketing. Here's a summary of what we discussed:
Driver 1 – Defining the Role of Marketing: Without Clarity, Effectiveness May Be Out of Reach
Andrea Zahumensky, CMO, KFC U.S.
Rachel Drori, Founder & CEO, Daily Harvest
Rachel explained that the role of marketing at KFC is all about "sales overnight, brand overtime." Sales overnight come from relentless innovation to get "butts in seats." By "branding everything" in a culturally relevant way, KFC is keeping its brand alive and top of mind.
Rachel shared that marketing at Daily Harvest is about "empowering every team member to deliver against the desired customer journey." To do this, they create multifunctional "squads" which work in 2-week sprints against very clearly defined goals.
Driver 2 – Retain, Recruit, Reward: Finding the Right Talent to Drive Effectiveness
Ann Mukherjee, Chief Commercial Officer, Global Consumer Brands, SC Johnson
Ann explained that in order to be talent-driven, we need to believe that we are all in the "human being business" and we need to find new paths to growth from the past.
Key Quote:
"Brands need strategic, cultural storytellers. You need a global, diverse, empathetic, and culturally-immersed workforce that can connect corporate strategy and brand strategy." – Ann Mukherjee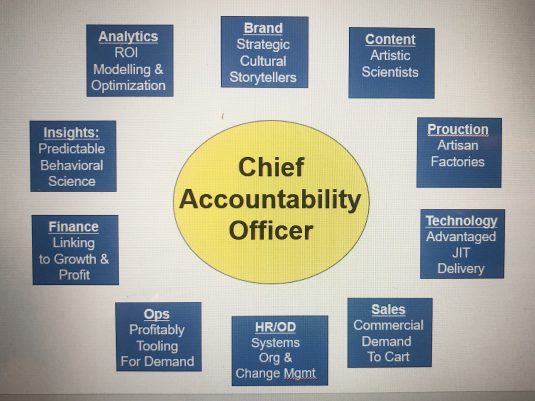 Driver 3 – Be Prepared: Finding the Right Balance of Short-Term and Long-Term Results 
Hugh Johnston, Vice Chairman, Executive VP & CFO, PepsiCo
Hugh busted the myths that the balance between short-term and long-term results is harder now than in the past. Dealing with disruption in quarterly capitalism has always been the case. Instead, he suggested getting targets right. Set targets that stem from vision and focus on strategy. Strategy is most often underused to get this balance right.
Key Quote:
"The long-term matters because valuations are based on the long-term profitability of the company. The short-term matters because showing growth is an indicator of the potential in the long-term." – Hugh Johnston
Driver 4 – Learn to Love Discomfort: Maintaining Effectiveness in the Midst of Unparalleled Change
Nick Brien, CEO, Americas, Dentsu Aegis Network 
Tina Sharkey, Founder of Brandless
Maureen Sullivan, COO of Rent the Runway
Micky Onvural, CEO of Bonobos
The panelists talked about how their businesses are engineered around community. The supply chains are built to delight customers and are connected to its social media and operations. These companies accept the fact that failures will happen, but they focus on the lessons learned from those mistakes.
Key Quotes:
"The key to success is being true to our purpose. If we live it internally, ultimately it shows externally." – Micky Onvural
"Brandless is unapologetically a brand. We are just redefining what a brand is." – Tina Sharkey
"Things go wrong when we focus on what others are doing rather than following what our customers need." – Maureen Sullivan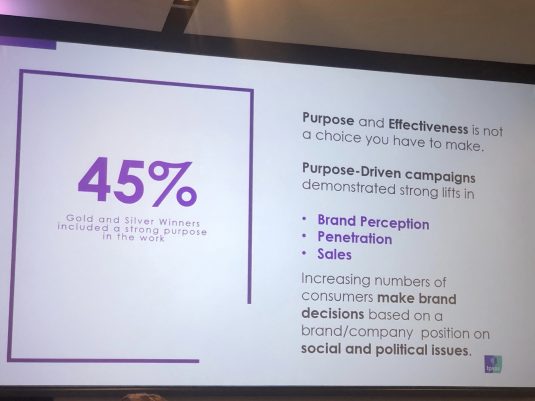 Driver 5 – Sweat Your Culture: Is Culture the Unsung Hero of Effectiveness?
Danny Robinson, Chief Client Officer, The Martin Agency
Torrence Boone, VP, Global Client & Agency Solutions, Google
Claudine Cheever, Global GM, NA CCO, Integrated Advertising, Amazon
Will Platt-Higgins, VP, Global Client Partnerships, Facebook
Key Quotes:
"Culture must be connected to your business strategy." – Claudine Cheever
"At Amazon, our leadership principles very strongly drive our culture, including the fact that some of them work in opposition from one another." – Claudine Cheever
"There is a belief we are all about data and science when in fact instinct, hypothesis, and creativity are a key part of how we work." – Claudine Cheever
"Google remains 100% focused on the user and 10x thinking as foundations to its culture." – Torrence Boone
"At Google we have a saying 'don't waste the crisis.' We use challenges (recent employee walk-outs or brand safety issues) to learn and re-think things." – Torrence Boone
"We have 50:50 goals. We expect to fail 50% of the time." – Will Platt-Higgins
"At Facebook we are now shifting our culture to try to have more hard conversations, to enable people to speak up when they believe something is off track or going to fail before we do it." – Will Platt-Higgins