Kicking off Young Marketers Academy
Jim and Suzanne are back in Cannes for the 8th time teaching the Cannes Lions Young Marketers Academy. The class is made up of 28 rising stars from client companies around the world like AT&T, Beiersdorf, Mondelēz, Tinder, J.P. Morgan, Google, Deloitte, Coca-Cola, HP Enterprise, Vodafone. We'll spend the week with incredible speakers in the classroom, attending seminars in the Palais, and working on a brief customized for our class by the U.N. – help solve world hunger.
Introductions + Bucket List Business Ideas
The Young Marketers got to know each other by sharing their bucket list items. Then they paired up with classmates with similar goals to create business ideas around these bucket list adventures.
Jim Stengel: Cannes Disruptors
Jim's session with the students reflected on some of the great work that has disrupted Cannes over the past few years:
The students discussed the principles behind these great works. Here's their list:
Something unexpected
Bigger purpose
Challenging the status quo
Risky
Simple and easy to explain
Create a movement
Include the community
Disruptive
Not an ad
Courageous
Not done before
Taps into bigger problems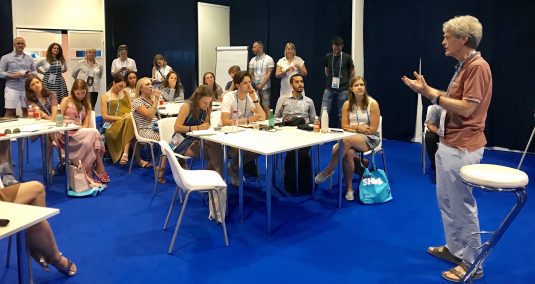 We have an incredible lineup of speakers in the Young Marketers Academy classroom this week. Here's a sampling of what we heard:
Fernando Machado (Global CMO, Burger King) Talked about how he evaluates great work for Burger King. It should be on brief, it should be something people will talk about, it should be something something the press will talk about. Fernando also talked about the need to think at the speed of culture. 

Sir John Hegarty (Founder, BBH) believes great work should be memorable, motivating, and truthful. He believes a brand has to stand for something and must have values that people respect. And at the center of that brand must be trust – without trust, a brand will fall apart.
The students attended some seminars on the big stage inside the Palais. Here's what they heard:
KFC talked about the consumer journey and how they've made every part frictionless with solutions appealing particularly to millennials. They've found their winning solutions through getting to know their consumer and their culture deeply.

McKinsey talked about their latest research – a study of 200 companies has shown that the fastest growing companies have found ways to integrate creativity and data. These companies have done this by integration across silos, creating an agile culture, and hiring whole-brain talent.