Day 2 in The Young Marketers Academy
On Day 2, the young marketers heard from Olivier Rabenschlag, Alexis Anzo, and Gary Jackson (Google), Simon Gill (Dentsu Aegis), and Gurdeep Puri (Effectiveness Partnership) in the classroom. They had a session with The Pop Up Agency to tap into their creative genius. And they heard from Samsung & Cheil and Glossier on the main stage in the Palais.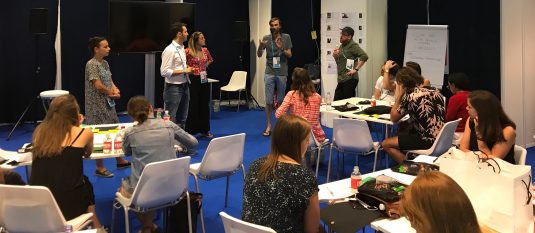 Google (Gary, Alexis, Olivier) told us that application of all their available tools becomes effective only when you know the problem you're solving. The young marketers will be using these tools to work on their brief from the U.N. – help solve world hunger.

Simon Gills (Dentsu Aegis) presented to us on great briefs. He challenged us to set up the problem very clearly. In addition to that, we'll need a deeply insightful view of our target audience to inspire creativity – ideally personifying our target.

Gurdeep Puri (Founder, Effectiveness Partnership) provided an econometrics lens on all that's wrong with the marketing measurements and KPIs. Laser-clarity on what the business problem is what should – but rarely does – drive all measurements.
What Cannes is Talking About
Samsung called on us to spot trends to predict what's ahead and help society. Brands are expected to make the world a better place and help us better ourselves. Technology is enabling this.

Glossier's tremendous growth was enabled by social media tools. The brand is disrupting the beauty industry by listening and interacting at scale with its customers. Technology has enabled them to be creative at the start of the customer interaction rather than the end as is classic marketing funnel.