Day 3 in The Young Marketers Academy
Today, the Young Marketers heard from Facebook (Ajoy and Ian) in the classroom. They visited the Product Design Jury Room. They saw Apple and R/GA on the big stage in the Palais. They spent some time working with their mentors from Dentsu Aegis to work on their brief from the U.N. – help solve world hunger. And they ended their day with Deloitte's Business Chemistry workshop which taught them about their workplace personalities and how to better understand the characteristics of other personalities they encounter on their teams.
What Cannes is Talking About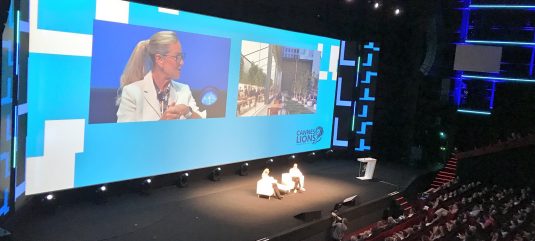 Be more human: great work and great leadership come from a human place.
Facebook shared with us that doing great video and mobile work comes from understanding the human shared experiences, passions, beliefs and situations around us.  We need to discover, astound, and expand these communities in our work by inspiring, celebrating, entertaining, and empowering people.
Apple declared they are in the business of enriching human lives by humanizing technology. Its new "town square" store design and approach is testament to this purpose and Angela Ahrendts, SVP of Retail, translates this purpose into how she leads. If Apple's hardware is the retail stores then its most important software is its people. They are there to enrich the lives of the consumers, not to sell. They do this every day by unlocking creative thinking and inspiring new learning within every customer. To enable this, Apple continuously enables employees to increase their education by providing tuition reimbursement and encouraging employee engagement in store innovation.
Be transformative: the only recourse for disruption is transformation.
Facebook told us that today we can effectively do pretty much anything we can conceive. This thought is a complete mind-shift from the past where constructs limited what we could deliver for our customers. This fusing of our creativity and technological possibility is what offers us the the promise of continuous transformation.
Apple is transforming retail yet again by making their stores places of art; each one housing unique, inspiring aspects of architecture or reinvigorating beautiful but forgotten parts of a city.  Stunning examples of this ambition include the renovating of the Carnegie Library in Washington DC to become the biggest learning center for teachers and students; the terrace of the Dubai store; and the Chicago riverfront.
R/GA believes the constant transformation is the only recourse to the continuous disruption in all industries today. They do this by asking different questions, creating diverse teams and owning the work from end-to-end. For example, instead if asking how to digitize a bank, ask how to create a bank for the digital generation. This opens up a whole new, bigger aperture on the creative thinking. Transformation should be the lens on every aspect of the customer journey for all marketers they believe.