It's Thursday at Cannes Lions and our day was filled with great content. Here's a peak inside our day:
We started the day at Dentsu Beach for a presentation from Pinterest. They shared how inspiration is all about seeing possibilities. Pinterest is visual to really capture look and feel that is so hard to describe in text. The platform is also social, but its unique amongst the social media giants – Pinterest encourages you to spend more time offline creating. They are not measuring the amount of time you spend on their site. They also use data to help predict trends based on user search terms.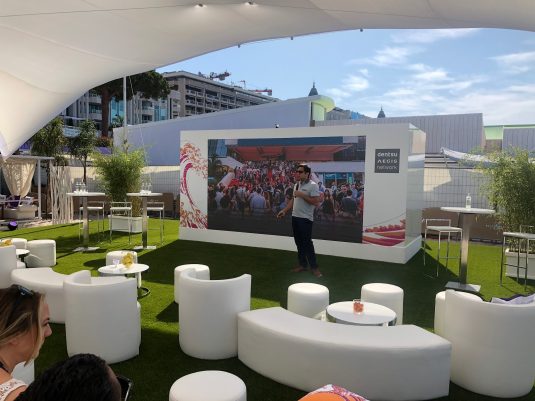 We went back to the classroom for a presentation by WARC. Ed Pank, Managing Director of WARC Asia talked about effective marketing campaigns. His keys to effectiveness in a low attention economy:
Be creative and drive emotion
Borrow someone else's attention (influencers)
Get into the news (hook onto culture where it makes sense for your brand)
Be somewhere unexpected
The secret to making all these work? Make sure you are recognized by your assets. If not, the attribution goes to the category leader.
Next, we had a presentation from Alex Josephson, Head of Brand Strategy at Twitter, and Katrina Dodd, Head of Trends at Contagious.
Key Quote:
"Look for Judo moments – where culture is going collides with what your brand is about."
Side note: hear more insights from Alex Josephson on my podcast here.
Rob Reilly, Global Creative Chairman of McCann Worldgroup came to speak to the class about purpose. McCann's purpose shifted five years ago from "transform brands and build business" to "we help brands play a meaningful role in peoples' lives." This new purpose has a great impact on their work and why they do it.